The GuidedPath team is pleased to announce we have received all data updates from our partners and have now made them available within both GuidedPath and MyCCA.
Wintergreen Orchard House
GuidedPath uses Wintergreen Orchard House to provide college profile updates. College profiles include college information  and deadlines.  This information is collected from each school annually at the end of the school year.  No other resource, especially IPEDS data, is as accurate, recent and robust as the data from Wintergreen Orchard House.
Fiske Guide
The Fiske Guide is a go-to favorite resource of  many advisors and counselors.  Students, parents and advisors can access the Fiske Guide through GuidedPath.   The Fiske Guide has been updated to the 2015 version, and is now available in GuidedPath!  GuidedPath allows you to search the Fiske ratings and also include them as a comparison criteria.  Below is a screenshot of a student's college list shown with Fiske ratings.
Research Admissions Dates and Essays
Each summer, we have a team of researchers review and update colleges admissions dates.  No other source provides current admissions dates, especially those of Early Action, Early Decision, and Restrictive Early Action. This summer we added college essays to our research project.  We have added also added a section, Additional Information, to capture unique admissions requirements at colleges.  Those notes are viewable when creating application plans.  
What Else Should I Know?
GuidedPath and our partners do everything possible to have the most accurate data possible.  If our most recent update causes one of your student's application plans to have a date that differs from the most recent data we have, you will see a notice displayed in the applications plans.  Clicking on edit will allow you to update those dates.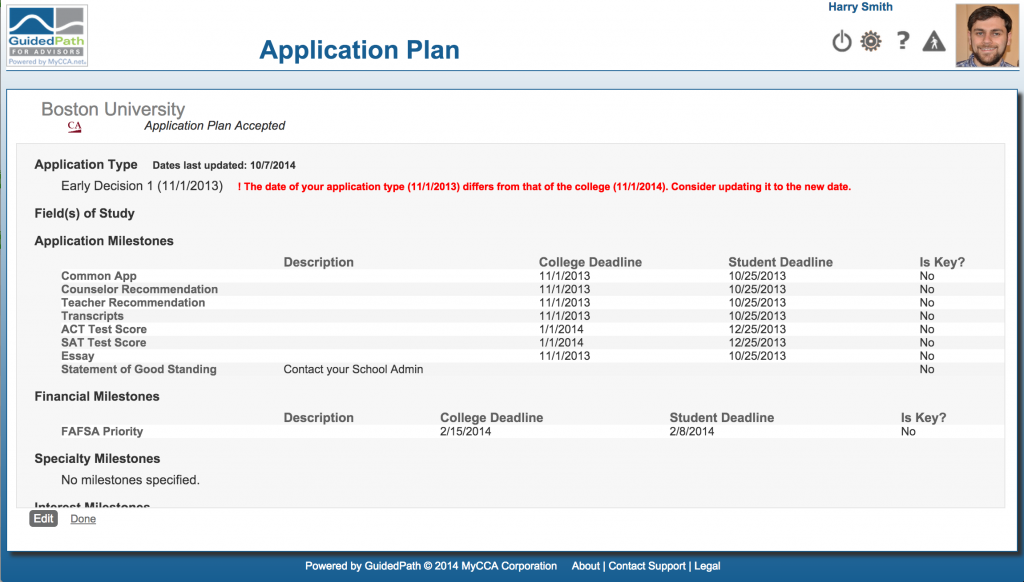 We also provide links directly to the school's website so you can easily verify dates.  This is recommended as a last step when solidifying application plans.
Questions?
As always, if you have any questions, our support team will be happy to help.  We can be reached by e-mail at support@guidedpath.net.